Tecumseh Parts | Tecumseh Parts Lookup | Tecumseh Repair Manuals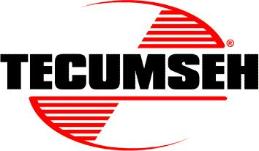 Starters used on Tecumseh engines vary from pull cord recoil styles used as the only starting method on most smaller displacement engines; to 12 volt and 120 volt electric starters used on larger displacement engines. Many larger engines also incorporate both styles. In both recoil and electric starters there are numerous designs used on various Tecumseh engine models.
The main components of the recoil starter are:
- The housing which usually bolts on to the engine shroud on most Tecumseh engines.
- A starter pulley that serves as a means of guiding and rewinding the pull rope.
- A coiled rewind spring that attaches to both the starter pulley and housing; and provides force though spring tension to retract the pull rope.
- A casing attached to both the starter pulley and housing though the center which holds the starter pawls. Starter pawls serve as hooks that catch the starter cup which is bolted to the flywheel and provide a mechanical connection between the starter and the crankshaft.
- A starter pull cord rope that is available in many sizes based on the size of the engine.
- A starter handle which attaches to the outer end of the pull cord rope and is also available in many shapes and sizes.
The main components of electric starters are:
- The housing which is either cylindrical or irregular square shaped and serves to hold the other components of the starter. Some housings bolt to the engine crankcase though an external bracket while others have bolt holes built into the drive cap.
- A shaft and armature that passes through the housing and both end caps.
- Starter brushes and spring loaded holder that attaches to the housing and allows the brushes to contact the armature.
- A spring loaded gear mechanism that extends and retracts the gear to engage the starter with the ring gear on the flywheel.
- An attached switch, plug and cable that is only used on 120 volt models.
Repair of both styles of Tecumseh starters depends on individual experience and capabilities; however replacement of the entire starter on Tecumseh engines is not a complicated procedure. For more information on Tecumseh starter repair and model application refer to the parts lookup and repair manuals sections on our site.