The Most Automatic Chainsaw You Can Own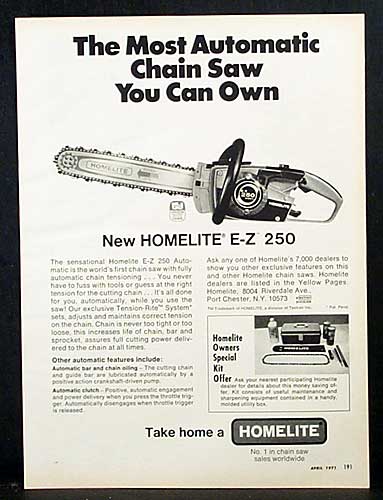 The sensational Homelite E-Z 250 Automatic is the World's first chainsaw with fully automatic chain tensioning. You never have to fuss with tools or guess at the right tension for the cutting chain.. It's all done for you automatically, while you use the saw!
Our exclusive Tension-Rite System sets adjusts and maintains correct tension on the chain. Chain is never too tight or too loose, this increases life of the chain, bar and sprocket, assures full cutting power delivered to the chain at all times.
Other automatic features include:
Automatic bar and chain oiling - The cutting chain and guide bar are lubricated automatically by a positive action crankshaft driven pump.
Automatic clutch - Positive automatic engagement and power delivery when you press the throttle trigger. Automatically disengages when throttle trigger is released.
Ask any one of Homelite's 7,000 dealers to show you other exclusive features on this and other Homelite chainsaws. Homelite dealers are listed in the Yellow Pages.
Homelite, 8004 Riverdale Ave.
Port Chester, N.Y., 10573
No. 1 in chainsaw sales worldwide