This lightweight can really cut it.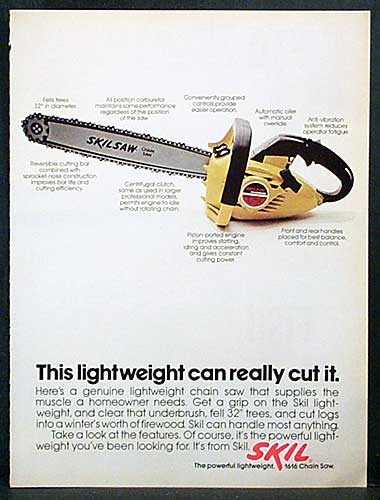 Here's a genuine lightweight chain saw that supplies the muscle a home owner needs. Get a grip on the Skil lightweight, and clear that underbrush, fell 32" trees and cut logs into a winter's worth of firewood. Skil can handle most anything. Take a look at the features.
Automatic oiler with manual override.
Anti-vibration handles reduce operator fatigue.
Front and rear handles placed for best balance, comfort and control.
Reversible cutting bar combined with sprocket nose construction improves bar and cutting chain efficiency.
Centrifugal clutch same as used in larger professional chain saws permits engine to idle without moving the chain.
Of course, it's the powerful lightweight you've been looking for, It's from Skil.