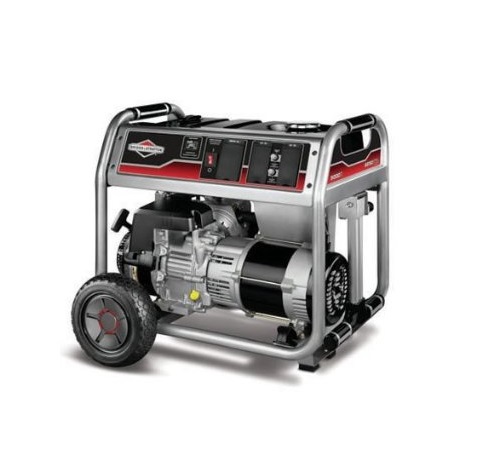 Briggs & Stratton 5000 Watt Generator
Hardworking, reliable home back-up power generator. Powered by a Briggs and Stratton 1650 Series OHV engine for long life, high performance, and great fuel efficiency. The Power Surge alternator produces up to 25% more surge wattage to start large motor-driven appliances and tools simultaneously.



6,250 surge watts/5,000 continuous watts
10-inch flat free tires
Briggs & Stratton 1650 Series OHV Engine
Provides up to 10 hours of run time at 1/2 load
Non-CARB Compliant/Not For Sale In California
5 gallon metal fuel tank provides up to10 hours run time at 50% load
4-120 Volt,20A / 1-120/240 Volt,30A twist lock
10 in. Never go flat wheels
Rubber outlet covers and hour meter
Additional items required: cord set and gas

How To select a Briggs & Stratton Generator.