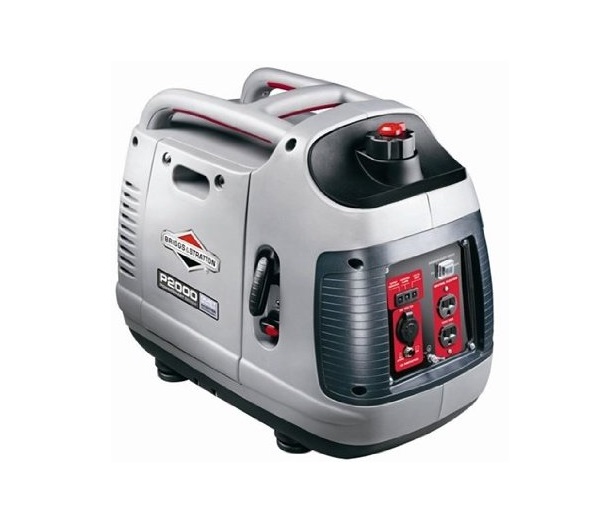 Briggs & Stratton 2000 Watt Generator Inverter
1600 running watts, 2000 starting watts. Inverter Technology - produces smoother power for sensitive electronics. Powersmart Mode - automatically adjusts engine speed to save fuel and run longer. Unique twin handle design. 2 Year Limited warranty. This generator is the best "bang for the buck" on small inverter generators. Inverter technology reduces the generator's size and weight. The main benefit of this inverter technology is that the engine can run at varying speeds, significantly reducing the noise levels and fuel consumption. These generators utilize a different type of alternator to generate very clean AC power. Suitable for computers and other sensitive electronic devices along with tools, space heaters and lights. Immediate benefits include long run time, true AC power sine wave, low noise and light weight.


Inverter Technology Features
Safely power, sump pumps, laptop computers, tv's, game systems, chain saws, heaters and lights
Produces less than 3% total harmonic distortion or clean AC power like from utility
2,000 Max Rated Watts / surge. 1,600 watts for continuous operation, 15 amps
Briggs & Stratton Elite Series OHV 105CC, recoil start gas engine
State-of-the-art Technology
Continuously adjusts engine speed to suit your power needs
Delivers quiet, efficient and consistent power
1-Gallon Fuel Tank
Run Time (50% Load): 5 Hours. Runs up to 6.5 hours @ 1/4 load
Rated Amps: 13 Amps @ 120 Volts duplex outlet. 12-Volt DC cigarette type Outlet (5 amp)
Resettable circuit breaker for 12vdc outlet, Operation lights, Constant power or variable switch
Recharge 12-volt batteries for RV, auto, marine, aircraft, etc.
Low Oil and Overload Alert System Protects the generator to keep it running for years
Up to 38% lighter and 45% quieter
Easy access doors to oil fill, air cleaner and spark plug
Ideal for camping and other recreational events
Briggs and Stratton engine for long life, high performance and great fuel efficiency
Inverter technology safely powers laptop computers, televisions and game systems
Produces less than 3% total harmonic distortion
1 gallon fuel tank provides up to 6.5 hour run time at 25% load
105cc OHV Engine, 6.5 hour run time at 25% load
105cc OHV Engine, 6.5 hour run time at 25% load
Outlets: 2-120V household, 1-12V DC accessory battery charging outlet
Onboard low oil and Overload Alert System
Up to 38% quieter - campsite friendly
Up to 45% lighter - for easy mobility
- Displacement 105.6cc
- Starting Watts 2000
- Running wattage 1600
- Load Current 120 Volts AC…13.3 amps – 12 VOLTS DC…5 amps
- 60 Hertz rated frequency
- Single Phase
- Fuel Tank capacity 1 gallon or 3.7 liters
- Oil Capacity 13.5 oz
- 13.3 running amps and 16.7 surge amps
- Weight 50 pounds
- 14.2 X 17.4 X 21 inches Size
- Up to 38% quieter than the competition
- 6.5 hours of run time at 25% draw, 1 tank of fuel.
- Manuals Included (wattage reference guide, trouble shooting, wiring diagram and more)
- Fuel tank vented cap
- Fuel shut off and on switch
- Dual handles for easy transport
- 4 rubber shock mount bottom feet
- Manual choke
- Easy access side maintenance cover and top spark plug cover
- Recoil Start
- LED alarm equipped for good output indication, overload and low oil
- 12 volt DC receptacle
- Grounding fastener
- 120 volt AC, 20amp, Duplex receptacle
- Powersmart mode: computer controlled digital inverter changes engine run speed in accordance to load or draw that is needed. Saves fuel, runs longer and protects your electrical appliances.
- 12 volt battery charger cable included. Plugs into 12 volt outlet and charges batteries.
- Oil, Tool Kit, Manual, 12 volt charging cables, Quick reference Guide, Easy Fill Oil Bottle, Warranty Card Included
- 2 year consumer warranty "2nd year parts only" 90 day commercial.